Mark your calendar - the annual Westwood PTO Holiday Shop returns December 12-16. This beloved event allows children to shop affordably for their loved ones for the holiday season (and without parents having to lug them to the stores). Teachers will provide further details about the specific date your child's class will shop.
To support our Holiday Shop endeavors, PTO will be holding a gift wrap supply drive from November 28-December 9. Supplies of gift bags, wrapping paper, tissue paper, tags, and tape can be placed in the gift-wrapped box inside the Westwood main entrance.
The Elementary PTO organized a Halloween Skate Party on October 13 at United Skates of America from 6:00-8:30. Admission is $4.00.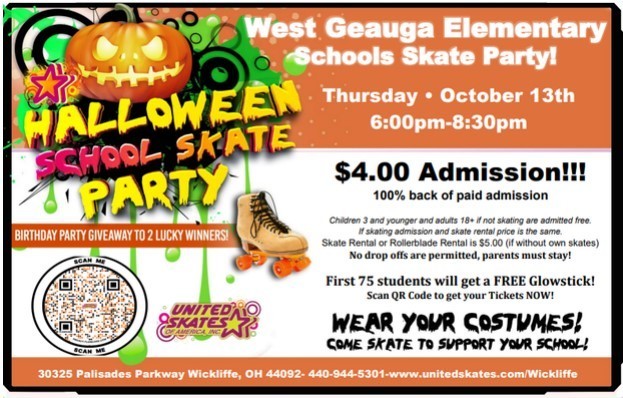 September 26-30 is Spirit Week at Westwood! Celebrate a new theme for each day.
Many families did not receive Bus/Car/Visor Tags for the first day of school. Classroom Teachers will now fill out and distribute Car and Bus tags to any child who does not have one. Visor tags will be sent home. If you are picking your child up from school on the first day, please write your Last Name on a piece of paper and place it on your visor. Thank you for your understanding and cooperation.
Bus/Car Tags and instructions were mailed to Westwood families on August 15. They should arrive to your house prior to the first day of school.
In honor of the first day of school, Westwood PTO would like to welcome students back by chalking the sidewalk and entrance at Westwood with encouraging messages and sidewalk art Sunday, August 21st, 6:00 pm-8:00 pm. Click here to sign up:
https://www.signupgenius.com/go/5080b4aaca92fa1fa7-westwood3
Our second graders exited Westwood for the last time with a special clap out on the last day of school! Best of luck next year in third grade.
It's the final day of One School, One Book! We can't wait to read the ending with you. Celebrate the day by showing your West G Spirit!
Do you have a favorite wild color? Today is the day to show it off on Wild Color Day (Comedy Club). We hope you're enjoying The Summer According to Humphrey so far! Today we read chapters 16-20.
"Dress for Summer" day is today! We will read chapters 11-15.
Today is "Pajama Day (Night Owls)" and chapters 5-10 in the book, The Summer According to Humphrey. Roll out of bed and we'll see you soon!
Today is "Dress like you are going to camp" day! We can't wait to see all of our happy little campers for the first day of One School, One Book as we read chapters 1-4.
New kindergarten parents, please join us for an informational night at Westwood! In order to attend, your child must be registered.