The last date to preorder your 2023 High School Yearbook for $65 is April 30. After that, you will have to wait until the books come in, and they will be available on a first-come, first-served basis for $80. Order online through Jostens.com or Infinite Campus. Can't remember if you already ordered? Check your order history through Jostens.com or email
kelly.klampe@westg.org
.
Student grades and report cards for the 3rd Quarter will be posted in Infinite Campus on Friday, March 24 at 4:00pm.
The West Geauga High School Musical Theatre Program brings Disney's Newsies to the Middle School stage from March 17-19. The musical is based on the 1992 film Newsies, which is inspired by the real-life Newsboys strike of 1899 in New York City. Performed by both High School and Middle School students, it's a show you won't want to miss. Get your tickets today using this link -
https://westgwolverines.hometownticketing.com/embed/all?depts=3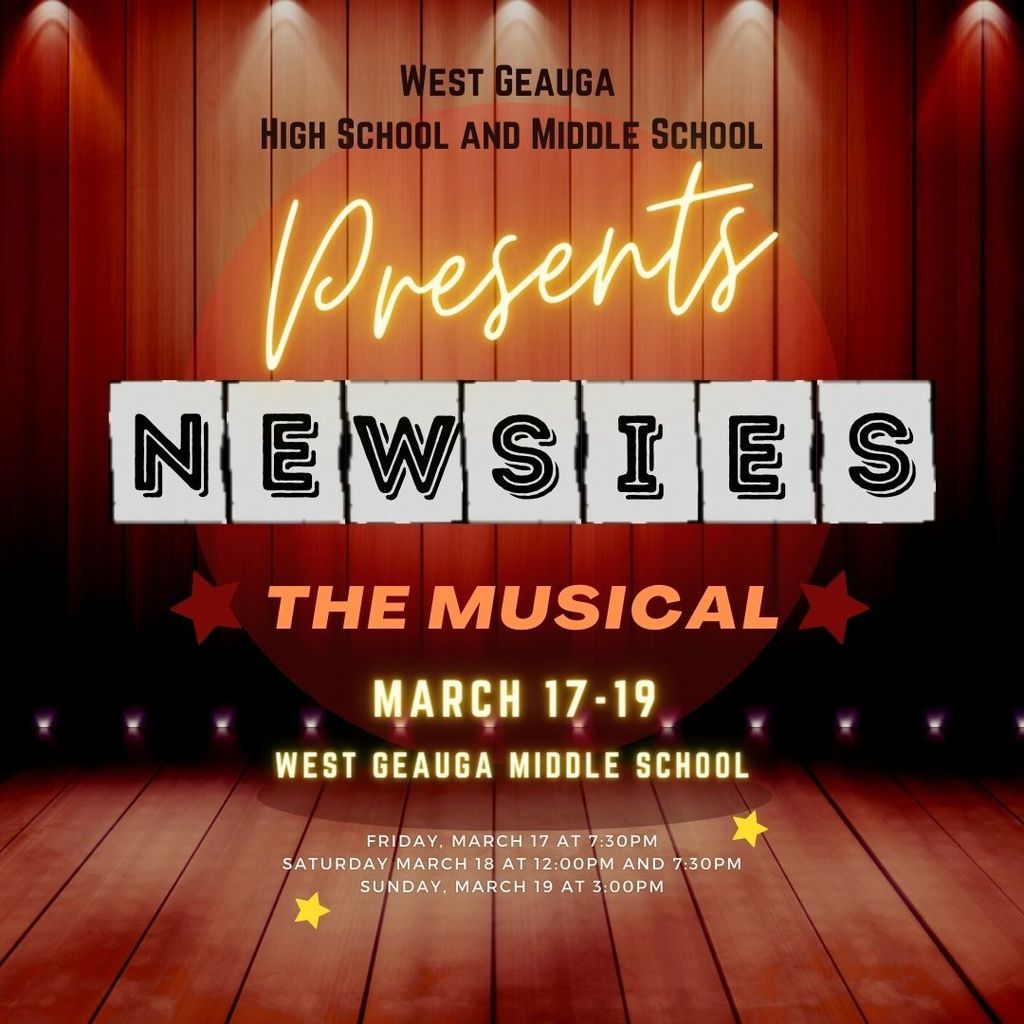 The Counseling Department is hosting a Student CCP Informational Session on Wednesday, March 8th during Academy time (7:15 - 8 AM) in the Choir Room. This meeting is optional for students to come learn about the benefits and risks of taking CCP. We will be repeating the same information that was presented this fall at the Curriculum CCP Night.
Best of luck to Senior Ashley Chase who is competing at the OHSAA State Championships on Thursday and Friday in Canton in both the 100 & 200 free. This is Ashley's FOURTH appearance at the State Championships!
Sophomores who applied to Excel TECC should check their email as acceptance emails are being sent. You will have until February 17th to confirm your spot! Stop by your Counselor's office if you have any questions.
Have you ordered your 2023 yearbook? Reserve your copy by pre-ordering now for $65. Once the books arrive, the cost jumps to $80. Orders can by made through Jostens or Infinite Campus.
Attention Junior Class Parents/Guardians - Save the date January 24th at 7:00 to attend College Planning Night at the High School.
The presentation given at the Curriculum/CCP Night on December 1 is now available on the high school website for your reference. You can locate the document under Academic Resources > Curriculum/CCP Night Presentation December 2022. Your School Counselor can help assist with further questions.
The West Geauga Symphonic, Concert, Jazz and Steel Bands invite you to attend the Winter Band Concert on December 8 at 7:00 in the West Geauga High School Gym.
PSAT results will be available on December 5th. When your scores are ready, they'll be posted on studentscores.collegeboard.org. Refer to the WGHS Family Newsletter for further details.
Students are permitted to wear costumes on Monday, October 31, but may not cover their faces with a mask or face paint so as to conceal their identity. This is for safety reasons. Students may not carry weapons (real or fake) to accompany their costumes. Costumes should be in good taste and not violate the school dress code. Students and staff are encouraged to have fun with their costume choices within the guidelines.
Senior Parents - November 30 is the deadline to order Yearbook Grad Ads. Ordering details can be found in the High School Newsletter or on the High School website under Parent/Student Resources.
Reserve your copy of the 2023 yearbook through Jostens.com or Infinite Campus. Books are $65 during pre-ordering. Once the books come in, the price jumps to $80. Don't miss out on the deal!
Parents and students are welcome to attend Financial Aid Night with our LEAF Advisor on Wednesday, September 28th at 7:00 in the WGHS Cafeteria. LEAF can provide tools for your career and college search, explain the college admissions and financial aid processes, help you research scholarship opportunities and even assist with financial aid applications! We look forward to seeing you at this informative event.
The Club Fair will be held in the cafeteria during our Freshman Mentoring this week. Encourage your student to stop into the cafeteria starting at 7:15 AM to see which clubs and organizations they could join. High school is a time when students can experience something new, branch out and maybe find a new passion!
Reminder to Parents/Guardians - The High School Open House is Wednesday, September 7 at 7:00pm. Please arrive with a copy of your student's schedule or have it accessible through Infinite Campus as you will follow it to visit each class.
Be sure to tune in Friday, August 26 to Fox 8 News in the Morning to see the West Geauga Marching Band and Wolverettes perform live on Kickin it with Kenny! They will be at the Rock and Roll Hall of Fame performing between 6:50 - 8:50 am.
Tomorrow morning (Wednesday, 8/24/22), will be our first Academy period of the year. Students can utilize this time to receive assistance from teachers starting at 7:15am, and all freshmen are encouraged to report to the cafeteria for Freshman Mentoring at 7:25am. Students who do not attend the Academy period do not need to arrive at school until 8:00am, with 1st period beginning at 8:05am. Students who ride the bus will be picked up at their normal time. This will occur each Wednesday unless otherwise noted.